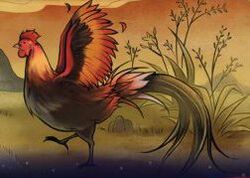 Chickens were farm Rokugani fowls. [1] "Mountain roosters", the Basan, were odd denizens of Chikushudo which resembled oversized roosters. [2] Roosters were fierce birds when facing foes of their own size or smaller, but would not fight larger enemies. [3]
Folk Culture
Edit
The rooster was considered a sacred animal, associated with Amaterasu, for it greets the sun at the dawning of every day with its cry, and with Fire for its fierceness when threatened. Peasants believed the crowing of a rooster can banish gaki and other unsavory spirits. Shinseist monks considered roosters to be good luck. [4]
See also
Edit
References
Ad blocker interference detected!
Wikia is a free-to-use site that makes money from advertising. We have a modified experience for viewers using ad blockers

Wikia is not accessible if you've made further modifications. Remove the custom ad blocker rule(s) and the page will load as expected.