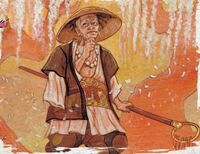 Chiang-Tsu was a revered ronin duelist, sensei and tactician.
Early Years
Edit
Chiang-Tsu was born among the peasantry of a small village in an unaligned region of the Empire. Before he reached the age of twenty, Chiang-Tsu left his family and joined the Brotherhood of Shinsei. The Brotherhood's means of discouraging frivolous adherents did not appeal to Chiang-Tsu, who after less than five years abandoned his oaths. [1]
In the five next decades Chiang-Tsu was considered a hero among the ronin, a gifted warrior, a brilliant teacher, and a philosopher. [1] He gave counsel to relevant individuals as Toturi Tsudao [2] or Toturi Koshei. [3]
Yoritomo Chimori
Edit
Yoritomo Chimori was presumed dead for years, cut down in a duel by the nephew of a Suzume Daimyo. When Chimori awoke days after the duel he didn't understand how it could be alive. Chiang-Tsu, who officiated over the duel, had saved him by falsely declaring him dead. He tended to Chimori's wounds for over a year, all the while teaching him of philosophy, theology and Bushido until Chimori was completely healed, returning to the Empire as a changed man. [4]
See also
Edit
External Links
Edit
References
Ad blocker interference detected!
Wikia is a free-to-use site that makes money from advertising. We have a modified experience for viewers using ad blockers

Wikia is not accessible if you've made further modifications. Remove the custom ad blocker rule(s) and the page will load as expected.