Shosuro Chian was a Scorpion ninja who was corrupted by the Lying Darkness.
Chian was a ninja who once loyally served his clan and family as a shadow warrior of the highest order. [1]
Brotherhood
Edit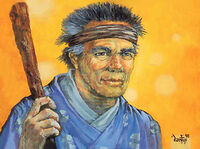 Imperial Ally
Edit
Following the Battle of Oblivion's Gate, Shosuro Chian was left a broken man as he had nearly been completely consumed by the Lying Darkness. He decided to join the Brotherhood of Shinsei, becoming the monk Chian. He was contacted by the Otomo family to create a ninja school for the Imperial family. This was the beginning of the Order of Tengen ninja school, taught at Shinden Tengen located in Mizen Mura, to serve as their headquarters and hand-picking the individuals who would become his agents. [1]
Order of Tengen
Edit
Under the cover of a monk order dedicated to the Fortune of Writing and Literature, the monks of the order would act as spies for the Imperial family. Chian specifically chose Tengen because few peasants regularly paid homage to the obscure Fortune, in that way he would have fewer visitors. [2]
Recruiting Remorseful Souls
Edit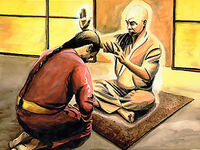 Chian accepted the former bushi Shiba Kai as member of his order. The Phoenix told Chian the secret that burdened his soul, setting his spirit free. [3]
The Shadowed Tower
Edit
The Soshi Daimyo, Soshi Uidori, spoke to Chian of the Shadowed Tower, telling the Tower counted among their ranks maho-tsukai and Darkness-spawn. Uidori believed this feud between the Scorpion Clan Champion Bayushi Yojiro and the Shadowed Tower endangered the Empire, so she would not participate. Uidori sent Chian to find Miya Hatori, a Historian who could meddle in the internal struggle of the Scorpion. [4]
Meeting Hatori
Edit
Chian revealed to Miya Hatori, Fuzake Sekkou, and Otomo Taneji the truth about the Shadowed Tower, in an attempt to make him understand how important was to keep the internal conflict of the Scorpion Clan a secret. The monk believed only an impartial outsider could bring an end to the threat of a civil war. [5] He alongside Yogo Ichiba met again Hatori at Ryoko Owari Toshi. They told that the Scorpion had revealed to Hatori their inner conflict expecting he would understand it was a Scorpion matter, and that he had to keep others away. [6]
External Links
Edit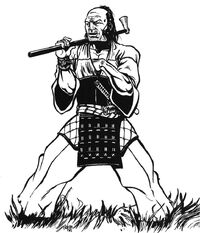 References
↑ Way of the Ninja, pp. 61-62
↑ Enlightenment (Promotional flavor)
↑ Secrets of the Scorpion, p. 48
↑ Secret of the Scorpion, p. 4
↑ Secrets of the Scorpion, pp. 63-64
Ad blocker interference detected!
Wikia is a free-to-use site that makes money from advertising. We have a modified experience for viewers using ad blockers

Wikia is not accessible if you've made further modifications. Remove the custom ad blocker rule(s) and the page will load as expected.