Chi no Oni was an oni of the Shadowlands, but unlike many other oni it was one of a kind and was not known to have any spawn. Chi was thought to lair near the Festering Pit of Fu Leng itself. [1]
Description
Edit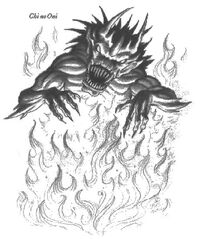 Chi no Oni had reddish skin and strong long arms, with dagger-like and deadly teeth. It was stood 15 feet tall, had a black-horned head and bristles sprouting on it's skin from head to shoulder. Chi no Oni would rather use its magical powers than brute force. [2]
In 1159, Chi no Oni was storming East Hub Village during the Fall of Otosan Uchi where it was destroyed by Shiba Aikune. [3]
See also
Edit
External Links
Edit
References
↑ Creatures of Rokugan, pp. 9-10
↑ Book of the Shadowlands, p. 76
Ad blocker interference detected!
Wikia is a free-to-use site that makes money from advertising. We have a modified experience for viewers using ad blockers

Wikia is not accessible if you've made further modifications. Remove the custom ad blocker rule(s) and the page will load as expected.