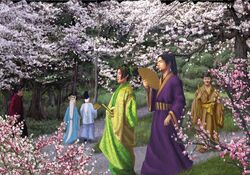 Cherry Blossom Festival, or Sakura no Sekku, [citation needed] was celebrated on the 23rd of the Month of the Dragon. [1] It was also sometimes called the Flower Festival (Hana Matsuri). [citation needed] It was the celebration of beauty and elegance. [2]
Celebration of Beauty
Edit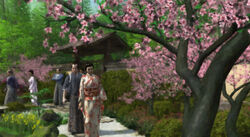 In Rokugan, everything had its own spirit, as well as its own beauty. [3] Traditional artwork was focused on the quest to capture a thing of perfection - the perfect mountain, the perfect lake, or the perfect cherry tree. The Cherry Blossom Festival was a celebration of this beauty, when the Rokugani gathered together for the Hanami, or flower viewing. [citation needed]
"Blown from the west, Fallen petals gather. To the east, they fall."
The festival might be the oldest of the flower-oriented festivals of Rokugan, dating back almost to the Dawn of the Empire. [5] On this day (and in many places for several days during this season), courts and feasts were held outside, under a canopy of blooming cherry trees. Cherry-blossom viewing had long had special significance in Rokugan, since Hantei and his bride planted a cherry tree in the gardens of Otosan Uchi to celebrate the birth of their son Hantei Genji. [1]
External Links
Edit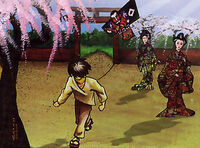 References