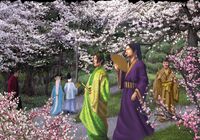 Cherry was a Rokugani tree. When they were blossomed it was celebrated the Cherry Blossom Festival. Cherry-blossom viewing had long had special significance in Rokugan, since Hantei and his bride planted a cherry tree in the gardens of Otosan Uchi to celebrate the birth of their first son, Hantei Genji. [1]
References
↑ Winter Court: Kyuden Seppun, p. 66
Ad blocker interference detected!
Wikia is a free-to-use site that makes money from advertising. We have a modified experience for viewers using ad blockers

Wikia is not accessible if you've made further modifications. Remove the custom ad blocker rule(s) and the page will load as expected.