Chandra, the "Hammer", was a Daughter of the Mountain and her father was the first Old Man of the Mountain, Hassan.
Assassin
Edit
Chandra was the bearer of he Black Star. [1] In 1125 Chandra failed to kill an Ebonite, and his father tasked the mission to Fatima, her elder sister. She succedeed, and the Old Man gifted her with the Wicked Moon, the assassin lengendary dagger. [2]
Chandra was enraged and came to the Temple of the Black Stone to kill Ebonites, to force a fight between them and her Order, so the Old Man's faith in Fatima could diminish. Before she reached the temple the Monkey Man appeared and recruited her to the Jackals. Chandra sought the aid of Shala, another of her sisters, to plot against Fatima and told about her new allies, which would become her demise. Shala told it to Faida [2] and her sister passed the information to their father, because Faida believed Chandra had betrayed the Order. [3]
Caliph's death
Edit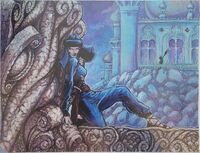 Chandra and her sister Shala led one of the Assassins Factions, the Traditionalist. After Adira became the new Caliph in 1134 Chandra confronted Shala's ruling. [4]
Chandra was found death this year. [4] Faida despised the her Jackal loyalty, and took her sister's life. [5]
External Links
Edit
References
Ad blocker interference detected!
Wikia is a free-to-use site that makes money from advertising. We have a modified experience for viewers using ad blockers

Wikia is not accessible if you've made further modifications. Remove the custom ad blocker rule(s) and the page will load as expected.