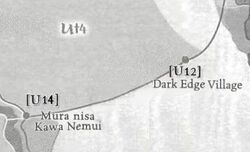 Champion's Walk was the road that connected Dark Edge Village (U12) to the Village by the Sleeping River (U16). Named for the first Emerald Champion and his coronation at Dark Edge Village, this road saw little traffic outside Utaku guards and Crane pilgrims. [1]
References
↑ Secrets of the Unicorn, p. 52
Ad blocker interference detected!
Wikia is a free-to-use site that makes money from advertising. We have a modified experience for viewers using ad blockers

Wikia is not accessible if you've made further modifications. Remove the custom ad blocker rule(s) and the page will load as expected.