Please note: This article is about the furried and domesticated mammal. For other uses of the term, please see Neko (disambiguation).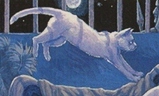 Cats, or Neko, [1] were small, furried, domesticated, carnivorous mammals. In the Burning Sands they were somehow related to the jinn. [2] A special member of this specie was the Cat of Many Tongues. [3]
The cat was an omen of wealth, comfort and good fortune in Rokugan, and was common among such wealthy families as the Doji and Otomo. [4] Daikoku, the Fortune of Wealth was depicted toying with a curious little rat running about by his feet, devouring the rice Daikoku spilled everywhere he went. [5] As the Scorpion Clan revered the Fortune they seen rats as lucky animals. Cats were creatures of ill omen who killed rats and angered Daikoku. [6]
See also
Edit
External Links
Edit
References
Ad blocker interference detected!
Wikia is a free-to-use site that makes money from advertising. We have a modified experience for viewers using ad blockers

Wikia is not accessible if you've made further modifications. Remove the custom ad blocker rule(s) and the page will load as expected.