The Candle of the Void were crafted by initiate Isawa Shugenja to assist meditation to the ishiken, who preferred to meditate upon the form of a single, flickering, perfect flame. The process of creation infused the candle with the power of the Void, giving the candle a supernatural aura of peace and focus. [1] These magical candles were made of black wax, extremely thick and usually about one foot long. [2] The molten wax formed an inexpressible pattern at its base, which were believed to represent the ineffable nature of the Void. [3]
External Links
Edit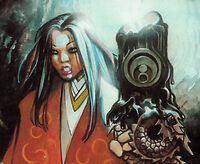 References
Ad blocker interference detected!
Wikia is a free-to-use site that makes money from advertising. We have a modified experience for viewers using ad blockers

Wikia is not accessible if you've made further modifications. Remove the custom ad blocker rule(s) and the page will load as expected.