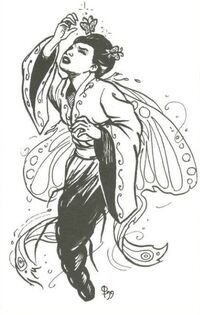 The Butterfly Hairpins was a cursed nemuranai made of brass with lacquer and paste decorations.
Abilities
Edit
The hairpins turned the user into the represented creature. Each activation infected the user with taint, and its repeated use would permanently transform him in a pony-sized version of the creature. Some of the victims retained consciousness within the new form, while others became the creature in every way. [1]
Butterfly Demon
Edit
The powers of the nemuranai were granted by the demon Chocho no Oni, which had a buttefly ressemblance. [2]
Known users
Edit
References