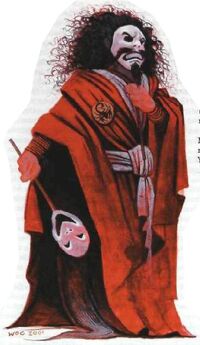 Butei was the rokugani word for "actor". [1]
Impersonating
Edit
Butei usually spent years accumulating a false identity. Once the mission was done, they would be retired to a remote Scorpion monastery and never seen active duty again. [1] It was said that Scorpion butei could alter their appearance with a simple shift of posture, a change of expression. [2]
References
Ad blocker interference detected!
Wikia is a free-to-use site that makes money from advertising. We have a modified experience for viewers using ad blockers

Wikia is not accessible if you've made further modifications. Remove the custom ad blocker rule(s) and the page will load as expected.