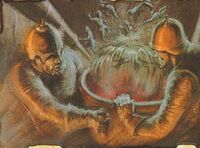 Burning Oil was a defensive weapon most commonly used from the top of a fortification. From a higher position, such as a city wall, the defenders could pour the burning oil down on any assaulters. Any water used in an attempt to quench the fire would instead make it greater. [1]
External Links
Edit
References
Ad blocker interference detected!
Wikia is a free-to-use site that makes money from advertising. We have a modified experience for viewers using ad blockers

Wikia is not accessible if you've made further modifications. Remove the custom ad blocker rule(s) and the page will load as expected.