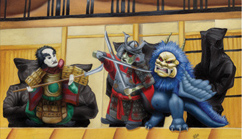 Bunraku was a Rokugani stage art performed with puppets. [1] Puppet shows were performed by itinerant entertainers, and each puppet was handled by three puppeteers dressed in black, who kept their bodies concealed by a screen. The master puppeteer manipulated all the puppet but the left arm and hand, and the legs and feet, which were maipulated by the two assistants. A narrator sat on a dais to the right of the puppet stage, chanting the dialogue. He was oftenly accompanied by a musician playing the shamisen. [2]
References
Ad blocker interference detected!
Wikia is a free-to-use site that makes money from advertising. We have a modified experience for viewers using ad blockers

Wikia is not accessible if you've made further modifications. Remove the custom ad blocker rule(s) and the page will load as expected.