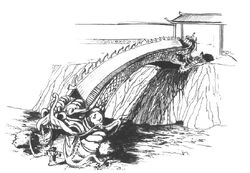 The Bridge of the Dragon connected the Noble Quarter with the Leatherworker Quarter.
Appearance
Edit
The bridge was carved in the shape of a two headed dragon, and the view from it was one the finest city sights: to the north the Bridge of Drunken Lovers and the Bay of Drowned Honor, to the south the Teardrop Island. [1]
Neighborhoods
Edit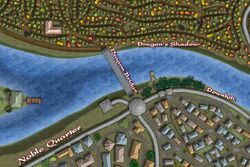 The Ninth Governor built the bridge hoping merchants would build in the west side of the River of Gold. The area became a den of iniquity, and the pleasure section was destroyed during Lion occupation. The eta settled in the ruins, because the Dragon Bridge allowed the leatherworkers to clean the Noble Quarter much more quickly. The bridge was closed to Leatherworkers during festivals, Cherry Blossom season, and Autumn Moon season, when the numbers of sight-seeing nobles were at their highest. [1]
References
Ad blocker interference detected!
Wikia is a free-to-use site that makes money from advertising. We have a modified experience for viewers using ad blockers

Wikia is not accessible if you've made further modifications. Remove the custom ad blocker rule(s) and the page will load as expected.