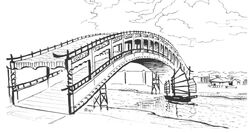 Bridge of Drunken Lovers, officially called Magnificent Bridge, was a bridge broad and beautiful which crossed the Bay of Drowned Honor in Ryoko Owari, connecting the Merchant Quarter to the Fisherman Quarter.
Construction
Edit
This bridge was built by Ryoko Owari's ninth governor, and was one of the first projects of the famous architect Kenchikuka. At the time it was called the "Magnificent Bridge" because of its width and splendid decorations. [1]
The bridge name was changed after two suitors, a woman named Riko and a warrior named Okami, met there completely drunk. Okami had been nervous because he had heard that Riko was beautiful almost beyond bearing, while Riko was unsure if she wanted to marry anyone. Consequently, both Okami and Riko took several drinks of liquor before the meeting to give themselves courage. Thoroughly inebriated, both suitors staggered onto the bridge and saw each other. Okami did not speak a word, but embraced her, and Riko was too surprised to speak before his lips had found hers. Their fathers, who had been lurking them, rushed forth and arranged their wedding before they had even said their first words to each other. [2]
References
Ad blocker interference detected!
Wikia is a free-to-use site that makes money from advertising. We have a modified experience for viewers using ad blockers

Wikia is not accessible if you've made further modifications. Remove the custom ad blocker rule(s) and the page will load as expected.