Ad blocker interference detected!
Wikia is a free-to-use site that makes money from advertising. We have a modified experience for viewers using ad blockers

Wikia is not accessible if you've made further modifications. Remove the custom ad blocker rule(s) and the page will load as expected.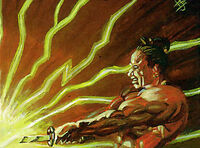 Breaking Blow was a Mastery 3 martial fire kiho [1] that focused the energy of a perfectly aligned body and spirit towards destruction. Although considered blasphemous by many monastic orders, it was nonetheless impressive. Monks familiar with this kiho were able to crack stone and shatter wood, and even split the lacquered plates of a samurai's armor. [2] [3]
External Links
Edit
References
↑ Legend of the Five Rings; Fourth Edition, p. 264
↑ Legend of the Five Rings; Third Edition, p. 256
↑ Way of Shinsei, p. 60