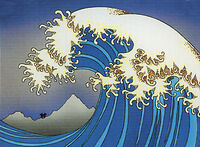 The Boundless Depths of Water was a Mastery 6 kharmic water kiho that granted the monk reserves of energy. Just as the ocean was never-ending so were the reserves, and with the kiho active the monk could not be knocked down or out if he still had a reserve of internal void left. The kiho would not prevent death however, and was extremely taxing, leaving the monk incapable of attacking if the kiho had been triggered. [1] [2]
External Links
Edit
References
Ad blocker interference detected!
Wikia is a free-to-use site that makes money from advertising. We have a modified experience for viewers using ad blockers

Wikia is not accessible if you've made further modifications. Remove the custom ad blocker rule(s) and the page will load as expected.