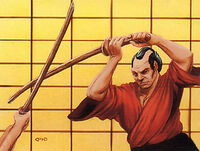 A Bokken (木剣, bok(u), "wood", and ken, "sword") was a wooden sword used for training, usually the size and shape of a katana, but sometimes shaped like other swords, such as the wakizashi and tanto. Some ornamental bokken were decorated with mother-of-pearl work and elaborate carvings. It was used almost exclusively for training. Most thought that the boken was used purely to prevent injury, but in reality it was also used because practicing with an edged blade would cause it to dull.
External Links
Edit
Ad blocker interference detected!
Wikia is a free-to-use site that makes money from advertising. We have a modified experience for viewers using ad blockers

Wikia is not accessible if you've made further modifications. Remove the custom ad blocker rule(s) and the page will load as expected.