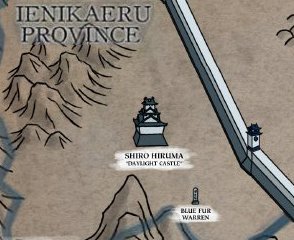 The Blue Fur Warren was home to the Blue Fur Tribe of Nezumi who were close allies of the Hiruma family. [1]
In 1133 shortly after the Crab Clan recaptured Hiruma Castle and began purifying the area [2] a Hiruma Scouting party found the ruins of a warren ten miles south of Shiro Hiruma, at the same time as a small tribe of wandering Nezumi. Crab and Nezumi agreed to share the warren as packmates. [1]
Use after the Nezumi Demise
Edit
When the Nezumi largely vanished during the late 12th century, the abandoned warrens became a set of underground supply depots for the Hiruma. They eventually would serve as a place of refuge during the Destroyer War. [3]
References
↑ Creatures of Rokugan: Third Edition, p. 49
↑ The Atlas of Rokugan, p. 22
Ad blocker interference detected!
Wikia is a free-to-use site that makes money from advertising. We have a modified experience for viewers using ad blockers

Wikia is not accessible if you've made further modifications. Remove the custom ad blocker rule(s) and the page will load as expected.