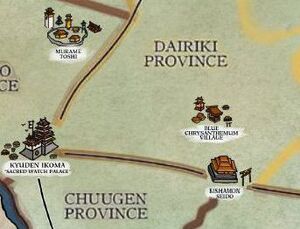 Blue Chrysanthemum Village was located ten miles north Bishamon Seido. It was named after the blue chrysanthemums which sprouted up from the ground around a Shrine to Benten, Fortune of Romantic Love. The shrine, built by the monk Goratu in the 10th century, honored Kitsu Kozu and Doji Echiko, who died because they loved each other but had been born among rival clans. Goratu, formerly the Lion Clan Champion Matsu Goratu, had doomed the couple, but shamed by Kozue's actions retired to the life of a monk. When Goratu died, his ashes were spread around the shrine's grounds and the flowers began to grow. [1]
References
↑ Secrets of the Lion, pp. 51-52
Ad blocker interference detected!
Wikia is a free-to-use site that makes money from advertising. We have a modified experience for viewers using ad blockers

Wikia is not accessible if you've made further modifications. Remove the custom ad blocker rule(s) and the page will load as expected.