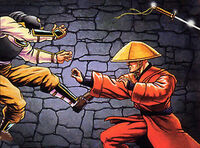 Bloodstrike was a Mastery 3 Dark Taint kiho that by summoning the darkness of the air around them and powering it with his own corrupted blood, the Maho-tsukai were able to strike his opponents very souls with corrupted lightning. This kiho could only be cast by spilling tainted blood. Thought to have been created by Iuchiban and passed down to Fu Leng's most devout followers. [1]
External Links
Edit
References
↑ Time of the Void, p. 36
Ad blocker interference detected!
Wikia is a free-to-use site that makes money from advertising. We have a modified experience for viewers using ad blockers

Wikia is not accessible if you've made further modifications. Remove the custom ad blocker rule(s) and the page will load as expected.