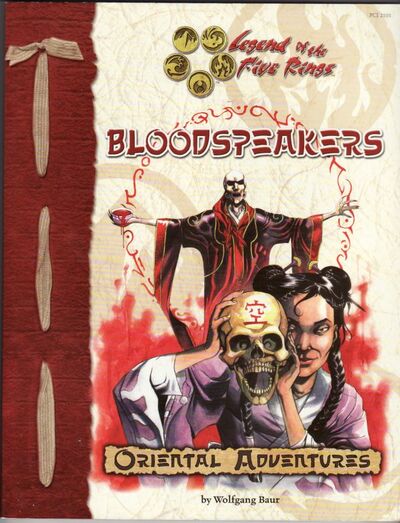 Bloodspeakers is the first source book of the Bloodspeakers in the Legend of the Five Rings roleplaying game.
Written by: Wolfgang Baur
Additional Material: Shawn Carman and Rich Wulf
Editor: David Hernandez
Additional Editing: Eric Wiener
Creative Director: Jimmy Beck and Nelson Rodriguez
Art director: Jimmy Beck
Graphic Designer: Victor Choy Designs
Cover Artist: Ramon Perez
Interior Artists: Paul (prof.) Herbert and Ramon Perez
Typesetter: Victor Choy Designs
Brand Manager: Raymond Lau
Production Managers: Henry Lopez and Nelson Rodriguez
Playtesters: Daniel Carew, Jason Cadd, Chris Holt, Jeff Malcolm, Alan Whitenburg, and John Clark
Table of Contents
Edit
Chapter 1: Blood Gifts (page 4)
Edit
Followers
Philosophy
The Founder and Fu Leng
Taint and Secrecy
Organization and Rituals

Cells
Gatherings
Initiation

Leadership

The Circle of Five
Shahai's Rule

Location and Number of Bloodspeaker Cults
Bloodspeakers Outside an Oriental Campaign
Bloodspeaker Prestige Classes
Chapter 2: Bloodspeaker Magic (page 25)
Edit
Spells

Maho and Honor
Low-Level Maho
complete Maho Spell List
New Spells
Chapter 3: History (page 50)
Edit
The Discovery of Maho
The Founding of the Cult

Yajinden the Liutenant
The Anvil and the Swords

Iuchiban Entombed

The Four Masks
The Porcelain Army

The Return of Iuchiban
The Circle is Broken
The Current Day
Chapter 4: Infamous Bloodspeakers (page 58)
Edit
Chapter 5: Written in Blood (page 75)
Edit
Ad blocker interference detected!
Wikia is a free-to-use site that makes money from advertising. We have a modified experience for viewers using ad blockers

Wikia is not accessible if you've made further modifications. Remove the custom ad blocker rule(s) and the page will load as expected.