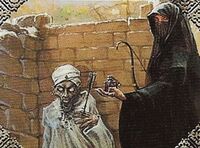 The Blood of the Caliph was a magic deadly poison which was only known and used by the Assassins. It was made with the blood of an immortal as the Khadi, pounded skin of a Lizard of Fire and Water, among other ingredients. [1]
Appearance and abilities
Edit
It was a transparent and viscous liquid, which made a deadly reaction when mixed with the human fluids. It was extended in the razor of weapons, and when it was incoulated with a stroke or swallowed, the victim would burn from inside, as if his blood was transformed in fire. [1]
External Links
Edit
References