Blood Pearl 
Created by:
Unknown
First used by:
Unknown
Currently in the possession of:
Unknown
Nemuranai
Dragon Pearl was presumed to be a remnant of some sort of the dragon P'an Ku. It was later used by Yajinden to create the Blood Pearl.
Abilities
Edit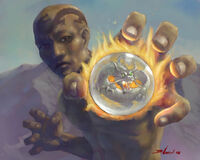 While holding the Dragon Pearl, the owner might transform the Pearl into an exact replica of any item within line of Sight. The duplicate object lasted until the owner wishes the Pearl to return to its natural form. [1]
After the Dragon-Phoenix War the Dragon Pearl was collected by the Mirumoto Nemuranai Seekers. [2]
Somehow the Phoenix were able to retrieve the nemuranai, and kept it in the Hidden City, Gisei Toshi. In 1165 it was looted by Iuchiban in the Siege of Gisei Toshi. [citation needed]
Bloodspeakers
Edit
Yajinden shattered the Dragon Pearl and crafted something new from the remains, the Blood Pearl. [3]
External Links
Edit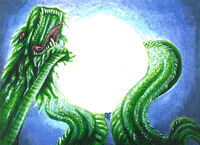 References
Ad blocker interference detected!
Wikia is a free-to-use site that makes money from advertising. We have a modified experience for viewers using ad blockers

Wikia is not accessible if you've made further modifications. Remove the custom ad blocker rule(s) and the page will load as expected.