Please note: This article is about the sworn bond between two individuals. For other uses of the term, please see Oath (disambiguation).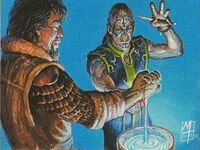 Blood Oath was an arrangement between two individuals that swore to became "brothers of blood" one of the other. It was made with the two fluids more valued in the Burning Sands, the blood, and the water. They bleeded their hands and joined them, over a pool of water. [1]
External Links
Edit
References
Ad blocker interference detected!
Wikia is a free-to-use site that makes money from advertising. We have a modified experience for viewers using ad blockers

Wikia is not accessible if you've made further modifications. Remove the custom ad blocker rule(s) and the page will load as expected.