Blood Hunt, Region 12
Written By:
Unknown
Edited By:
Unknown
Released:
Unknown
Link:
[1]
Story Year:
1166
Blood Hunt, Region 12 is a fiction for the 2005 Kotei results. [2]
Annotated Story
Edit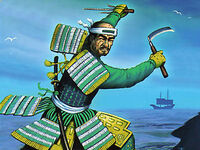 In Kudo in Hare lands, during the 1166 Blood Hunt, Yoritomo Egumi enters an empty court chamber and seats himself at a nearby table. Footsteps behind him announces the arrival of Usagi Oteko. He greets her and she asks him if there is any news. Egumi tells her to tell her father the bloodspeaker threat is ended. Oteko is relieved and Egumi thinks how he has not met a girl with her relentless nature since he served with Yoritomo Kumiko. Oteko asks if any escaped and Egumi reveals some did but they will not return. Oteko asks how this could happen with the Imperial Legion here, but Egumi points out that his men have fought bloodspeakers at the Temple of Osano-Wo before travelling to Kudo with little sleep. The tracks they followed when they arrived were those of a Nezumi tribe also attacked by the bloodspeakers. Oteko apologizes, and asks Egumi to tell her about the battle. Egumi explains that the Nezumi aided them in tracking the bloodspeakers, but Oteko is not impressed by Nezumi who steal food constantly. Egumi explains it was the Grasping Paw Tribe, and it is in their nature to steal. Oteko is willing to overlook their crimes if they did indeed help Egumi and his men. Egumi reveals the Nezumi were led by Chi'kel, and attacked the bloodspeakers as soon as they were found slaughtering almost all of them. There was nothing for the Legion to do. Chi'kel was made the chieftain of the tribe, and wishes to meet with the leader of the village and Egumi asks Oteko if that is her. She says it is and asks him to take her to Chi'kel.
Characters
Edit
Not Present, But Mentioned
Edit
Ad blocker interference detected!
Wikia is a free-to-use site that makes money from advertising. We have a modified experience for viewers using ad blockers

Wikia is not accessible if you've made further modifications. Remove the custom ad blocker rule(s) and the page will load as expected.