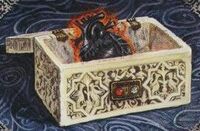 The Black Heart was the removed heart of Hanan Talibah, the Caliph. After she passed the ritual of the Khadi, she became an immortal. The heart was guarded inside an Ivory Box. [1]
Shortly after the Immortal Caliph crushed a Qabal rebellion, she hid the Book of the Dead, along with her Heart, deep inside her castle. [2]
Loss of the Heart
Edit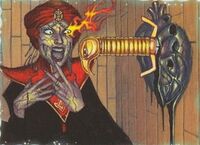 Somehow the Black Heart was found by Keseth in 1132, and Nepherus realized what it was. [3] Keseth destroyed it plunging a dagger into the heart, and the Caliph was murdered shortly after. [4]
External Links
Edit
References
Ad blocker interference detected!
Wikia is a free-to-use site that makes money from advertising. We have a modified experience for viewers using ad blockers

Wikia is not accessible if you've made further modifications. Remove the custom ad blocker rule(s) and the page will load as expected.