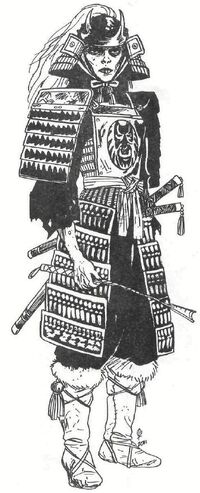 The Black Guard were the most feared of the Dark Moto, an institution which served as the elite vanguard of Fu Leng's armies. Only those who demonstrated the most unwavering devotion and utmost skill in battle were accepted, becoming the fist of Moto Tsume. [1]
Yogo Junzo
Edit
When Yogo Junzo claimed the leadership of the Shadowlands Horde only few Black Guard joined him. The rest reamined at Tsume's side. [2]
The Dark Moto were completely destroyed in 1133, and their techniques could had been lost to the history, but Otaku Daiken, who had become Lost during the Battle of Oblivion's Gate, after the Dark Moto's destruction, resurrected their ways and taught them in the Temple of the Forsaken. [3] The Dark Moto Cavalry techniques began to be tought it to Daigotsu's followers and his fledging Spider Clan. [4]
Black Guard Techniques
Edit
Members of the Black Guard might choose to interrupt their advancement to learn various Shadowlands Powers. [5]
See also
Edit
References
Ad blocker interference detected!
Wikia is a free-to-use site that makes money from advertising. We have a modified experience for viewers using ad blockers

Wikia is not accessible if you've made further modifications. Remove the custom ad blocker rule(s) and the page will load as expected.