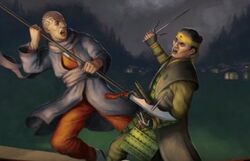 The Bisento was essentially a wooden shaft with a heavy-bladed sword at its tip. Although it might appear awkward and top-heavy, the leverage provided by the shaft allowed it to be wielded effectively. The bisento was an unusual weapon, and was most commonly seen among militant orders of monks [1] in the Mantis Isles. [2] The more militant orders of the Brotherhood of Shinsei [3] as the Spider monks, also favored this weapon. [4]
See also
Edit
External Links
Edit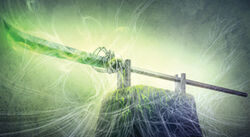 References
Ad blocker interference detected!
Wikia is a free-to-use site that makes money from advertising. We have a modified experience for viewers using ad blockers

Wikia is not accessible if you've made further modifications. Remove the custom ad blocker rule(s) and the page will load as expected.