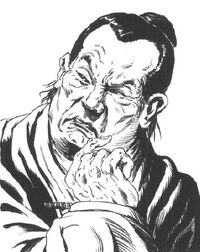 Bimyo, most known as Subtle, was a merchant of Ryoko Owari Toshi. He was cousin of Sharp, patroned by Bayushi Korechika, the opium Bayushi cartel leader, while Subtle was patroned by Shosuro Hyobu, city's governor and leader of the Shosuro cartel. [1]
Demeanor
Edit
Subtle noticed everyone around him, he did not believe in the Bushido, and he saw his life as the one with the greatest freedom and pleasure, better than the samurai one. [1]
Merchant
Edit
Subtle was an exporter who transported his goods by land, taking them through Beiden Pass to the seas. His primary interests were sake, silks, timber and fine ceramics. [2]
Opium War
Edit
Hyobu was reported that the Soshi cartel had stolen her drugs, in a strike in which was seen the leader's cartel, Soshi Seiryoku. Subtle was allowed to strike against the soshi. He hired the assassin Jaw, and ordered him to kill Watchful, the frontman of the Soshi. It was the beginning of the Opium War. [3]
References
↑ City of Lies: Player's Guide, p. 74
↑ City of Lies: GM's Guide, p. 81-83
Ad blocker interference detected!
Wikia is a free-to-use site that makes money from advertising. We have a modified experience for viewers using ad blockers

Wikia is not accessible if you've made further modifications. Remove the custom ad blocker rule(s) and the page will load as expected.