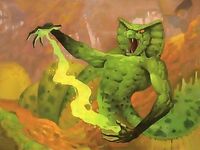 The Bhakarash was a soulbinder Naga Jakla.
Ancestry
Edit
The Bhakarash was the first Cobra known. Some legends said that she was the wife of the Qatol, but others called her "sister". [1]
The Bhakarash was a strong ruler who taught the Cobra the Pearl Magic. She was revered for tricking the Atman's Bright Eye into crying, and those tears fell across the ocean and became pearls. She could not cause the Pale Eye to weep, and so the dark tears were far more rare. Without her clever tricks, the Naga would have no magic and there would be no pearls in the ocean. [1]
Her spirit was reincarnated in a Naga who awakened in the 12th century. [2]
External Links
Edit
References
Ad blocker interference detected!
Wikia is a free-to-use site that makes money from advertising. We have a modified experience for viewers using ad blockers

Wikia is not accessible if you've made further modifications. Remove the custom ad blocker rule(s) and the page will load as expected.