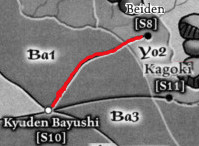 Beiden Road connected Kyuden Bayushi (S10) to Beiden (S8). This road had been of critical importance, connecting the barracks at Kyuden Bayushi to Beiden Pass. Since Beiden Pass was destroyed, the Scorpion have come to call this "Worthless Road," for it led only to an obsolete military outpost. [1]
References
↑ Secrets of the Scorpion, p. 15
Ad blocker interference detected!
Wikia is a free-to-use site that makes money from advertising. We have a modified experience for viewers using ad blockers

Wikia is not accessible if you've made further modifications. Remove the custom ad blocker rule(s) and the page will load as expected.