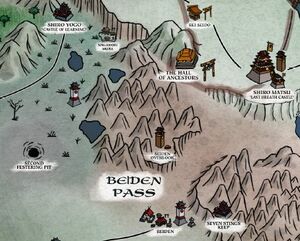 Beiden Overlook was a Matsu outpost, few fortified buildings surrounded by wooden palisades defended by one hundred bushi. It laid three miles to the north of Beiden (S8), on one of the mountains flanking what was once Beiden Pass. There were a number of high and narrow passes, known as Beiden Shadows, which still permitting small numbers of troops through the mountains. [1]
References
↑ Secrets of the Lion, pp. 71-72
Ad blocker interference detected!
Wikia is a free-to-use site that makes money from advertising. We have a modified experience for viewers using ad blockers

Wikia is not accessible if you've made further modifications. Remove the custom ad blocker rule(s) and the page will load as expected.