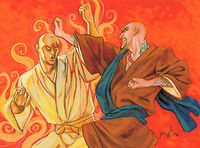 Beginning and End was a Mastery 7 [1] Aiki Fire Kiho that allowed the monk to understand that the cycle of rebirth affected almost everything equally, but for the one thing that could be both the easiest and hardest to change: the mind. The monk channeled his creativity from within and rethought even the most ingrained ideas. [2]
Drawback
Edit
While the monk was under the initial effects of this kiho, his "rebirth" of thought consumed all of his awareness. He was completely concentrated inward, attempting to rebuild his own beliefs and knowledge. He would be easily ambushed and was simply unaware of his surroundings. The excess Fire in the mind of the user made other learning nearly impossible. [2]
External Links
Edit
References
Ad blocker interference detected!
Wikia is a free-to-use site that makes money from advertising. We have a modified experience for viewers using ad blockers

Wikia is not accessible if you've made further modifications. Remove the custom ad blocker rule(s) and the page will load as expected.