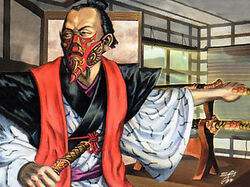 Bayushi Yaro was a Saboteur and Oyabun of the Scorpion Clan.
Dojo of the Red Crane
Edit
Yaro was a student of the Dojo of the Red Crane, where he learned the Saboteur skills. [citation needed]
Yaro was under the command of Bayushi Churai, Master sensei of the dojo. Churai sent Yaro to take a blade owned by Ikoma Goro, and replace it with a forgery. [1]
External Links
Edit
References