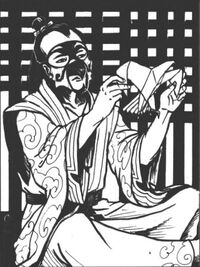 Bayushi Toshiro was a shugenja of the Scorpion Clan.
During his training at the Soshi Shugenja school, Toshiro was ordered to kill his parents, who had betrayed the clan. He refused to kill them, but when he arrived for answers Toshiro found them killed. He returned to school and it was assumed Toshiro had accomplished the mission. [1]
See also
Edit
References
↑ Unexpected Allies, p. 80
Ad blocker interference detected!
Wikia is a free-to-use site that makes money from advertising. We have a modified experience for viewers using ad blockers

Wikia is not accessible if you've made further modifications. Remove the custom ad blocker rule(s) and the page will load as expected.