Bayushi Toshimo was a bushi, kensai, and yojimbo of the Scorpion Clan, and a student at the Bitter Lies.
Toshimo was the son of Bayushi Nanu and Bayushi Oruko. He had an elder sister, Bayushi Naruhi. His family was distantly related to the royal Bayushi bloodline. [1]
In 1176 his sister married with Hida Demopen, the hero of the Empire. She took her husband's family name becoming Hida Naruhi. They lived in the Scorpion, being his brother the commander of the defenders of the Scorpion Wall, which surrounded the Second Festering Pit. [1]
Disgraceful Conduct
Edit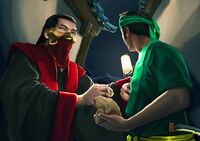 Toshimo made a slip during the Winter court at Kyuden Bayushi, which was quickly used by Bayushi Shibata to force him to perform a disgraceful conduct. [2] Toshimo watched in the distance the attack against a Crane caravan made by his Mantis mercenaries. [3] Finally, Toshimo killed his contact among these mercenaries to erase his tracks. [4] Eventually Toshimo's actions were noted by Scorpion Clan Champion, Bayushi Nitoshi, who forced him to retire. [5]
Dutiful Agent
Edit
Since he fell in disgrace, Toshimo lived in a remote an obscure village. He was visited by his son Bayushi Toshimo, who told their Lord Nitoshi would forget his past transgressions if Toshimo began to utilize his connections in the Imperial Legions as well as the Shogunate in order to ensure that a small contingent of Scorpion under his command, was situated within the forces attached to the Iweko Seiken as the Imperial Heir departed for the Colonies. Toshimo would remain close to the heir and gain his confidence. [6]
External Links
Edit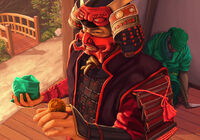 References
Ad blocker interference detected!
Wikia is a free-to-use site that makes money from advertising. We have a modified experience for viewers using ad blockers

Wikia is not accessible if you've made further modifications. Remove the custom ad blocker rule(s) and the page will load as expected.