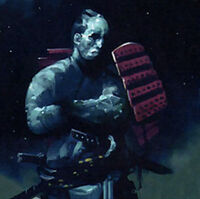 Bayushi Toru of House Rokugo was bushi of the Scorpion Clan who became ronin, but continued referring to himself by his former Bayushi family name. [1]
Demeanor
Edit
Toru was a grim, solitary man who spent much of his time in the sake houses of any place where ronin congregated. Many considered him the worst example of what a ronin could become. [2]
Bayushi Yojiro's Spy
Edit
Toru during the War of Spirits was one of Bayushi Yojiro's most cunning spies, though his Scorpion membership often interfered with his work. Toru volunteered to become the Master of Secrets' personal agent. To the world Toru dishonored himself flee­ing his unit at Beiden Pass, becoming a ronin for his staged cowardy. He had since acted as Yojiro's underhand. The Shosuro Daimyo Shosuro Yudoka was the only other Scorpion who knew of Toru's existence. [1] Yojiro believed Toru was faster than shadows. [3]
Missions
Edit
Toru performed difficult missions, as killing a Goju who infiltrated the home of the Toritaka Daimyo, stealing nemuranai from Kyuden Isawa, or spying upon Bloodspeakers in the Twilight Mountains. [1] In 1166 he spied upon Lion armies assembled near the Unicorn border. [4]
Visited by the Lion
Edit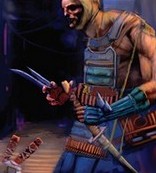 The Lion Clan passed a message to Yojiro through Toru, and one name was said, Shimizu. [5] They had been followed by Tsuruchi Kazushi for unknown reasons. [6]
See also
Edit
External Links
Edit
References
Ad blocker interference detected!
Wikia is a free-to-use site that makes money from advertising. We have a modified experience for viewers using ad blockers

Wikia is not accessible if you've made further modifications. Remove the custom ad blocker rule(s) and the page will load as expected.