Bayushi Tenzan was a bushi magistrate and yojimbo of the Scorpion Clan. He was considered a Paragon of Bushido.
Hunting Paneki's Disgrace
Edit
Tenzan was also known as "Tasu's Sorrow", honoring Bayushi Tasu, his grandfather, who was the killer of the returned undead Champion Bayushi Shoju. Shosuro Keirei hoped Tenzan could accomplish similar task with Paneki's Disgrace. [1] His wife, Bayushi Iyashi, aided Tenzan in his quest. [2]
Relationship with Misaki
Edit
Misaki questioned why Tenzan was so driven to pursue the Disgrace. She indicated a female had ordered Tenzan to go after the Disgrace. She also wondered if Tenzan's Father's failure was part of the reason driving him in his search. She also mentioned that Tenzan had a wife that seemed willing to follow Tenzan on his path. She believed Tenzan to be a fool as long as he continued in this hunt. [3]
In the Colonies?
Edit
It was said that Tenzan was defeated in the Colonies by Agasha Gifu, which created some controversy. The Scorpion claimed Tenzan had never been in these territories, and the Phoenix Clan confirmed that Gifu had died many years ago. [4] Gifu had actually destroyed a doppleganger created with the Egg of P'an Ku. [5]
End of the Disgrace
Edit
In 1199 Shosuro Keirei succeeded in his quest, and found the lair of Paneki's Disgrace in the Spine of the World Mountains. The undead was put in chains by Keirei, Bayushi Tenzan and his wife. The Scorpion Clan Champion Bayushi Nitoshi came to the lair and killed what his father had become. [6]
External Links
Edit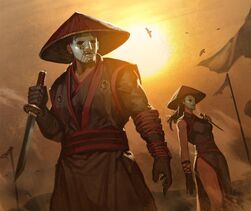 References