Bayushi Shinzo was a ninja in the service of the Scorpion Clan. Shinzo was one of the many across Rokugan who achieved enlightenment.
The Traitor
Edit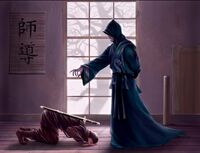 In 1168, Shinzo willfully became a student of Kokujin. Although he joined Kokujin in hopes of discovering the way to defeat him, his betrayal of Shosuro Yudoka proved he became completely under the mad ise zumi's influence. [1]
Enlightened
Edit
Kokujin, the Prophet of the Dark Lotus, taught the Scorpion in his particular way, and Shinzo became enlightened. [2]
Change of Heart
Edit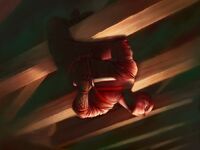 Shinzo followed Kokujin for roughly a year until joint Rokugani forces caught up with them and their army of zealots. During the assault on Kokujin's base camp, Togashi Matsuo bravely but hopelessly fought against Kokujin. Shinzo was ashamed of his actions when he witnessed Matsuo's disregard for his own life, and he killed Kokujin. At that moment, the new Shosuro Daimyo Shosuro Toson caught up with Shinzo. Toson, along with Shosuro Aroru and Bayushi Muhito captured Shinzo, who came willingly, and took him to face Traitor's Grove. [3]
External Links
Edit
References
Ad blocker interference detected!
Wikia is a free-to-use site that makes money from advertising. We have a modified experience for viewers using ad blockers

Wikia is not accessible if you've made further modifications. Remove the custom ad blocker rule(s) and the page will load as expected.