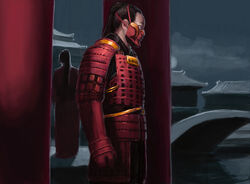 Bayushi Shigeru was a courtier of the Scorpion Clan.
Toshi Ranbo
Edit
Shigeru was appointed in the courts of Toshi Ranbo where he earned the enmity of Togashi Ikumu. Shigeru began to slip Liquid Void in the food of the Tattooed Monk, who became an addict. Before Shigeru was exposed the seer was recalled to defend the borders of the Dragon Mountains against a new threat. [1]
War of the Dark Fire
Edit
During winter court at Kyuden Bayushi in 1170 he was informed that a Badger ambassador requested to enter without invitation. [2] Shigeru carried news of the War of Dark Fire beginning. [3]
Destroyer War
Edit
During the Destroyer War even the courtiers who were able to handle a blade had to be in the front line. In 1173 Shigeru was defending Zokujin Mura against the forces of Kali-Ma. A strange event happened, and he was surrounded by shadows with another being, that seemed like a man, wearing strange metal armor and wielding a long, curved blade. Shigeru was struck and only the arrival of Shiba Miiko allowed the assailant to flee. The shadows disappeared as well, with the being which clearly was not human. [4]
External Links
Edit
References
Ad blocker interference detected!
Wikia is a free-to-use site that makes money from advertising. We have a modified experience for viewers using ad blockers

Wikia is not accessible if you've made further modifications. Remove the custom ad blocker rule(s) and the page will load as expected.