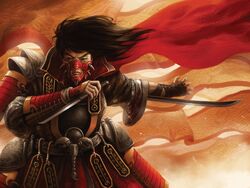 Bayushi Shigehiro was a bushi, Bitter Lies, and kensai of the Scorpion Clan.
Destroyer War
Edit
Shigehiro fought in the Destroyer War under the command of Bayushi Kosaku. In 1172 The Crab lands were completely under the Destroyers control, and the Crab joined the fight alongside the Scorpion, who began to be asaulted by the gaijin demons. Hida Demopen was appointed as Kosaku's advisor and Shigehiro became good friend of Hida Ikarukani. [1]
External Links
Edit
References
Ad blocker interference detected!
Wikia is a free-to-use site that makes money from advertising. We have a modified experience for viewers using ad blockers

Wikia is not accessible if you've made further modifications. Remove the custom ad blocker rule(s) and the page will load as expected.