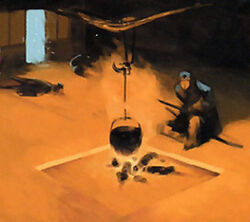 Bayushi Seiryo was a bushi of the Scorpion Clan and an assassin of the Shadowed Tower.
Shadowed Tower
Edit
Seiryo was a member of the a secret Scorpion organization, the Shadowed Tower, which tried to take the control of the Clan. [citation needed]
New Otomo's Home
Edit
In 1159 Seiryo made a bargain with Kakita Munemori. He gave the Crane an information which was passed to Doji Tanitsu, who threatened the position of Bayushi Kaukatsu at the Imperial Court. The Imperial Chancellor stopped his attempts in gaining the favor of the Otomo family, and the new Otomo's home went to Crane lands. It was a plot to show Scorpion's weakness in the Court, fracturing the leadership of Bayushi Yojiro. [1]
Assassin
Edit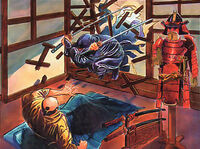 Seiryo killed Bayushi Shixiang in his sleep. [2] [3]
Hataki's Forged Scrolls
Edit
Seiryo and Soshi Natsuo were distant cousins of Bayushi Kuemon, who had been killed by Matsu Hataki in 1160, a renowned hero since his death from the wounds he took during the fight against overwhelemed odds. Kuemon had been Bayushi Shamate's lover and killed her when she married Hataki. Siryo and Natsuo had found themselvcs tainted by their link to him. They planted a sack with forged scrolls, as if they were written by Hataki. In the notes the Lion told he was very close to finding Shamate's murderer, but provide little proof other than that Hataki "feels certain" that Shamate's former lover was responsible. The notes indicated that Hataki was leaving to search for the culprit in a small, unnamed pass to the south. The Scorpion were hoping to call into question Kuemon's guilt and painted Hataki as a raving lunatic obsessed with vengeance. Their scrolls were found by a group of samurai, but Shamate's brother, Bayushi Eitarou, quickly denounced them as forgeries. [4]
External Links
Edit
References
Ad blocker interference detected!
Wikia is a free-to-use site that makes money from advertising. We have a modified experience for viewers using ad blockers

Wikia is not accessible if you've made further modifications. Remove the custom ad blocker rule(s) and the page will load as expected.