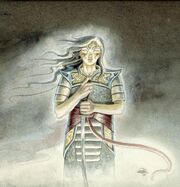 Bayushi Seiko was a Scorpion Clan magistrate.
Stations
Edit
Seiko was stationed on the Kaiu Wall [1] and in a village near the Spine of the World Mountains. [2]
King of the Trolls
Edit
In 958 she learned of the awakening of the King of the Trolls from Asako Gohiro, an Imperial Cartographer who had witnessed the awakening. Seiko enlisted the aid of the zokujin Zgkol and it's tribe the Magn F'Chka. Gohiro, with the knowledge learned from the Zokujin and the assistance of both the zokujin and Seiko, used his magic to again return the King of the Trolls to sleep in the Northern Wall Mountains. The exertion cost Gohiro his life, however his dying wish was for Seiko to raise his son Asako Kyo to serve his lord as she had served hers. [2] Zgkol taught Seiko's descendants the secrets of defeating the King Troll through the next generations. [1]
References
Ad blocker interference detected!
Wikia is a free-to-use site that makes money from advertising. We have a modified experience for viewers using ad blockers

Wikia is not accessible if you've made further modifications. Remove the custom ad blocker rule(s) and the page will load as expected.