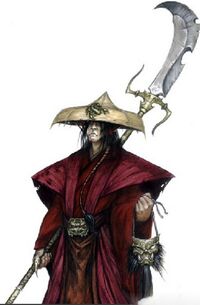 Bayushi Ryo was a bushi of the Scorpion Clan.
Ryo had been yojimbo to an important courtier in Otosan Uchi. His charge was killed in 1159 during the Fall of Otosan Uchi. Ryo was forbidden to commit seppuku, and he embittered. [1]
Guardian of Shimomura
Edit
This same year Ryo was appointed as steward of Shimomura, guarding farmers and lumberjacks, a tax collector, protector of rice and wood. He expected one day his clan would march to the south, against the Crane provinces, where he could bleed his shame away. [1]
Encounter
Edit
Ryo had an encounter with Kakita Hideshi with unknonw results. [2]
External Links
Edit
References