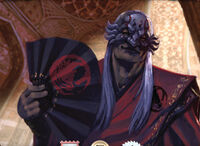 Bayushi Rentatsu was a courtier of the Scorpion Clan.
Winter Court - 1184
Edit
In 1184 Rentatsu attended winter court at Kyuden Bayushi. He made a passionate speech about the impermanence of wealth, how it tainted the soul and that it was folly to seek it. He spent many time in the gardens of the palace after Mirumoto Shikei told him that he had seed the glint of koku there. [1]
War of the Twins
Edit
The simple investigation of an Asako Inquisitor, Asako Moeru, forced upon those who guarded the Second Festering Pit against their wishes, led to a terrible tragedy near the Scorpion Wall. Complete Moeru's entourage was murdered [2] and their deaths blamed on Haruno no Oni. [3] In 1190 Isawa Tamaki led the Phoenix delegation who issued a complaint in the Imperial Court, alongside the only survivor, Shiba Jikaro, who had left the Scorpion lands before the attack. Tamaki petitioned for the right to avenge their honor on the field of battle and the Empress Iweko I agreed. Tamori Sugi, the Dragon representative, stood with the Phoenix in this affair, as well as the Crane Clan. The Crab and the Lion Clans backed the Scorpion, represented by Rentatsu. The War of the Twins had begun. [2]
External Links
Edit
References
Ad blocker interference detected!
Wikia is a free-to-use site that makes money from advertising. We have a modified experience for viewers using ad blockers

Wikia is not accessible if you've made further modifications. Remove the custom ad blocker rule(s) and the page will load as expected.