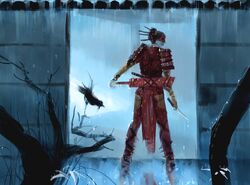 Nishkut was member of a Tribe which predated the Fall of the Kami. She eventually became a follower of Kami Bayushi himself, as Bayushi Nissho of the Scorpion Clan.
Dawn of the Empire
Edit
Nishkut was a chieftain's daughter from a tribe settled near what would one day become Kyuden Bayushi, who joined Bayushi when he was among her people seeking followers. [1]
Nissho possessed few social skills and spent much of her life focused on simple survival. She eschewed the sword in favor of the so-called "Way of the Horse and Bow," and employed skills of stealth, tracking, and ambush. Nissho exacted a terrible toll against her enemies, especially during the First War. [2]
See also
Edit
External Links
Edit
References
Ad blocker interference detected!
Wikia is a free-to-use site that makes money from advertising. We have a modified experience for viewers using ad blockers

Wikia is not accessible if you've made further modifications. Remove the custom ad blocker rule(s) and the page will load as expected.