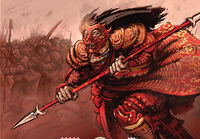 Bayushi Motomu was a bushi of the Scorpion Clan.
He was a regular client of the House of the Red Lotus in Ryoko Owari. He loved in secret one of the house's geisha, Hanae. In 1166 the geisha killed the patrons of the Red Lotus, friends, family, lovers, posioning the meal of the house. She was a bloodspeaker who heard the Iuchiban's order to strike out the Empire in a wave of murder, betrayal, and destruction. [1]
Blood Hunt
Edit
Motomu eagerly offered his aid in the Sezaru's quest, the Blood Hunt. [2]
External Links
Edit
References
Ad blocker interference detected!
Wikia is a free-to-use site that makes money from advertising. We have a modified experience for viewers using ad blockers

Wikia is not accessible if you've made further modifications. Remove the custom ad blocker rule(s) and the page will load as expected.