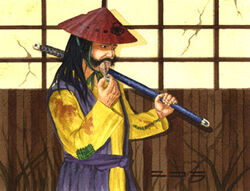 Bayushi Marumo was a bushi of the Scorpion Clan, who developed the Marumojutsu martial art.
After the Scorpion Coup Marumo went into hiding disguised as ronin, chased by the Imperial Legions. Marumo was forced to kill many of those who recognized him as a member of the fallen Great Clan. [1]
Defensive Unarmed Art
Edit
To remedy this, he began studying the basic ways of jiujutsu, developing a defensive unarmed combat style, a means by which he could escape combat and leave his enemy alive. Marumo continued to work on perfecting if long after the Scorpion's reinstatement as a clan. Marumojutsu became quite popular with bodyguards, courtiers, and those who did not always deem it necessary to take their opponent lives. [1]
External Links
Edit
References